By:  Keely Yowler
April 22 is Earth Day.  Everyone talks about recycling, repurposing, and reusing items in scrapbooking.  But, where do you start?  The project I created today, "Vintage Angels Altered Mirror", incorporates many recycling ideas.  I'll show you how to use everyday items to create fabulous scrapbooking accents.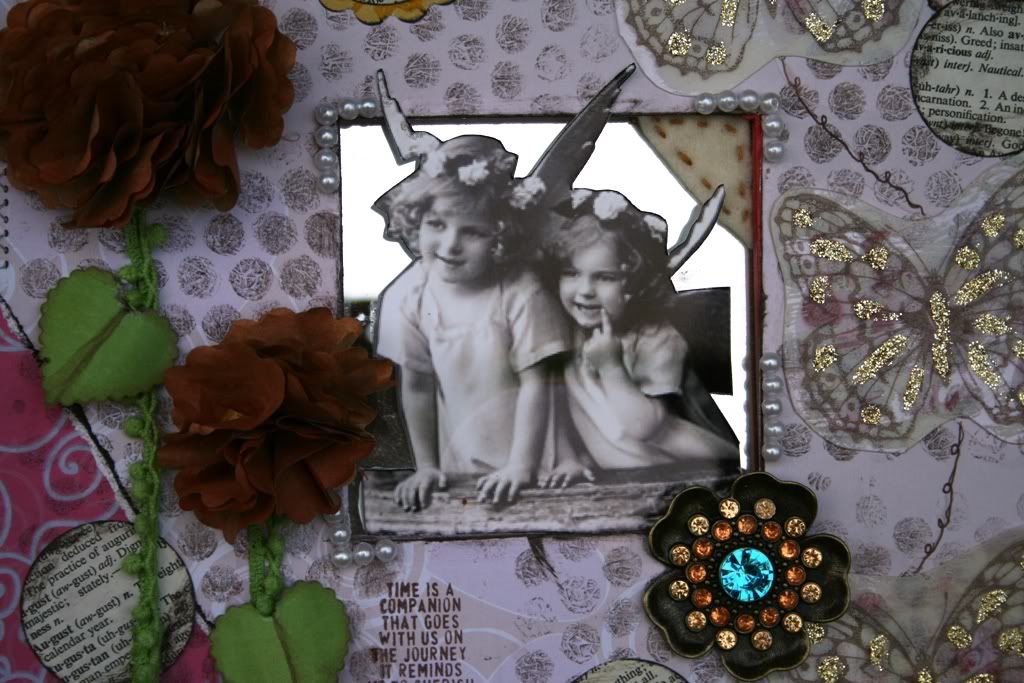 1.  Create a background stamp with packaging bubblewrap.  Don't throw away that bubblewrap.  Use alone or wrap around your acrylic stamping block, ink with permanent ink, and stamp to create a distressed, textured background.
2.  Use costume jewelry pieces and beads to accent frames and photos.
3.  Create overlays from plastic packaging.  Stamp images with permanent ink onto plastic.  Let dry and cut around image.  Dry brush cream paint to back of plastic to accentuate image.  Accent front of image with glitter glue.
4.  Punch shapes from book pages to use as accents.  I used an ordinary circle punch, inked edges, and adhered to my mirror.
5.  Create photo corners from felt pieces.  I stitched around a left-over piece of felt with embroidery floss to create this easy photo corner.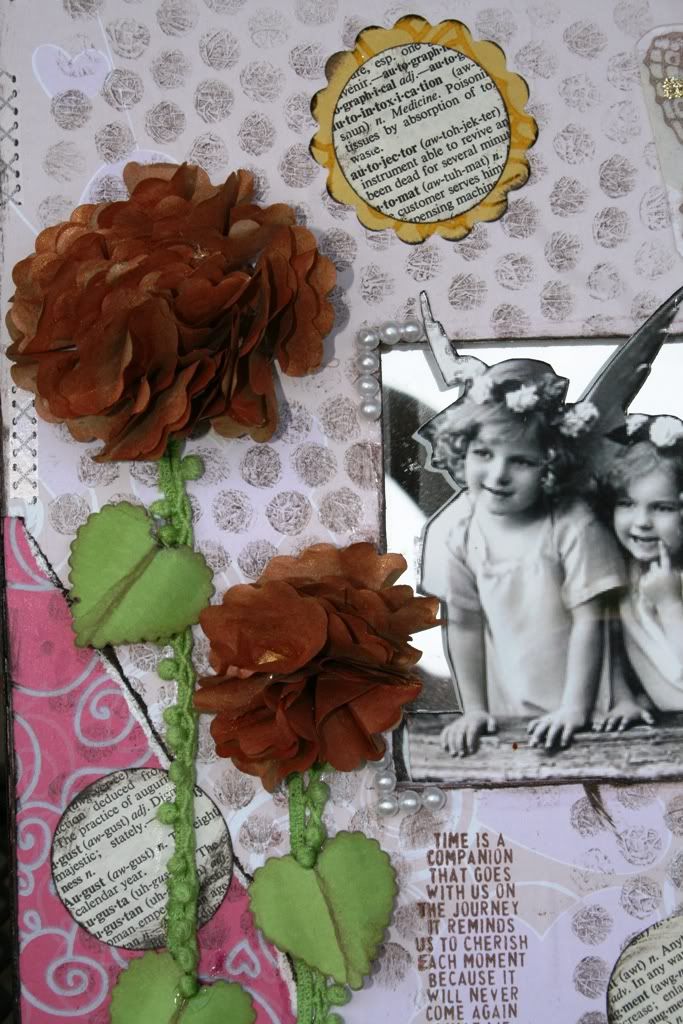 6.  Create flowers with brown paper lunch bags and cardboard.  I used a scalloped circle punch to create these flowers.  Punch shapes, ink, gather centers, and adhere to punched cardboard circle.
7.  Use ribbon and fiber scraps for dimension.  Instead of using a piece of cardstock to create the flower stem, I used a left-over piece of fiber trim.  These are also great to create photo frames, outline journaling, and add dimension to cardstock pieces.
8.  Repurpose your punches.  Stack shapes, use portions of shapes, and be creative.  These leaves were created with a scalloped heart punch.
9. Use those paper scraps.  Challenge yourself to create a project with only the paper scraps you have from your last project.
10.  Visit your local thrift store.  I purchased this mirror for 50 cents.  There are plenty of items that are begging to be repurposed.
Have a wonderful Earth Day!
Keely Yowler
http://www.keelyy.blogspot.com
Supply List:
Kiki Art Patterned Paper: Amor collection #010101, 010103, 010133, China collection #020124, Jardin collection 040102
Kiki Art Fun Tape: Familia collection #050201
Kiki Art Decorative Trim: Green #770101
Stamps: Stampin' Up butterfly, Ranger journaling
Punches: Fiskars flower, 1" circle, 2" circle, heart
Ink: Tsukineko permanent ink brown
Glitter Glue: Sulyn Industries
Felt: Unknown /Cream
Paint: Delta White
Embroidery Floss: DMC Tan
Pen: Zig Brown
Recycled Items: Dictionary Pages, Brown Paper Lunch Bags, Packaging Plastic, Costume Jewelry, Cardboard packaging, Bubble wrap, Mirror, Vintage Photo
Adhesive: Modge-Podge, Alene's Tacky Glue, Foam Dots