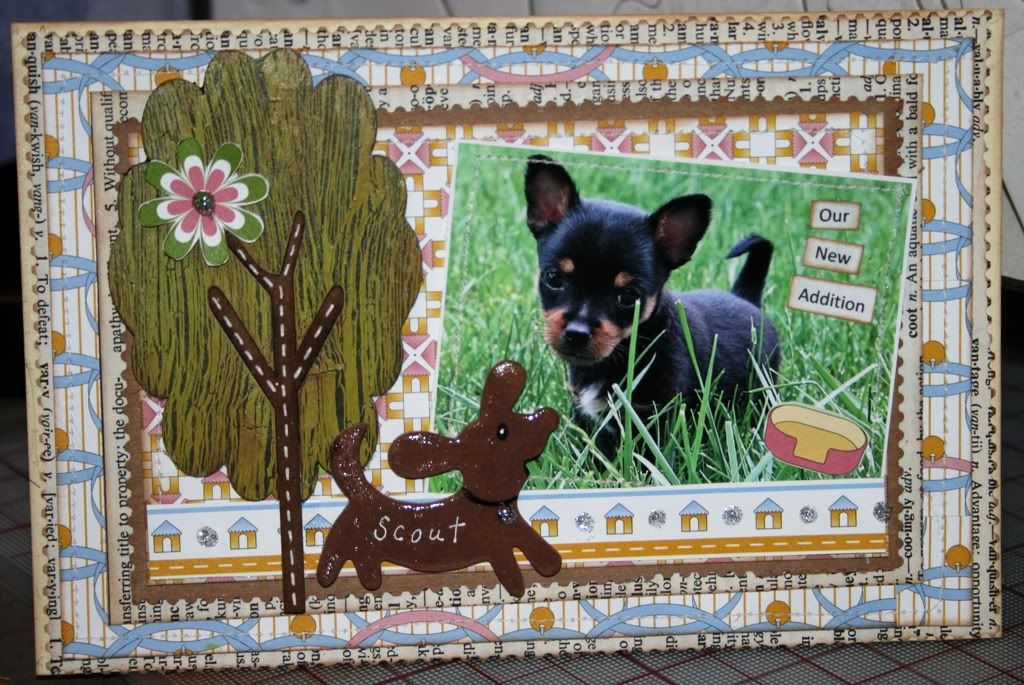 Spring brings so many new things.  For our family, Spring brought a new puppy named Scout.  He is just so adorable.  Our pets are definitely like our children, so I created this "puppy announcement" to send to the grandparents.  I included lots of details to make this card special.
1.  Scalloped scissors make paper edges interesting.  Choose a small, simple edge, such as pinking shears or small scallops to draw attention to layered papers.
2.  Use book pages with small print to separate layers of patterned paper.  The small print adds interest without competing with the colored paper.
3.  Choose patterned papers in complementary colors.  One way to achieve this is to use papers in one collection.  For this card, I used the "Bella Blue and Oscar Too" collection by Nikki Sivils.  The small prints of dog houses, collars, and bowls was just perfect for my puppy card.
4.  Use chipboard accents for dimension.  I painted this chipboard tree with green crackle paint for texture, added hand drawn stitches to the tree trunk, and used dimensional glaze on the chipboard dog.
5.  Stitch it up.  I machine stitched around several layers and the photo, but hand drawn stitches or doodling are also great for details.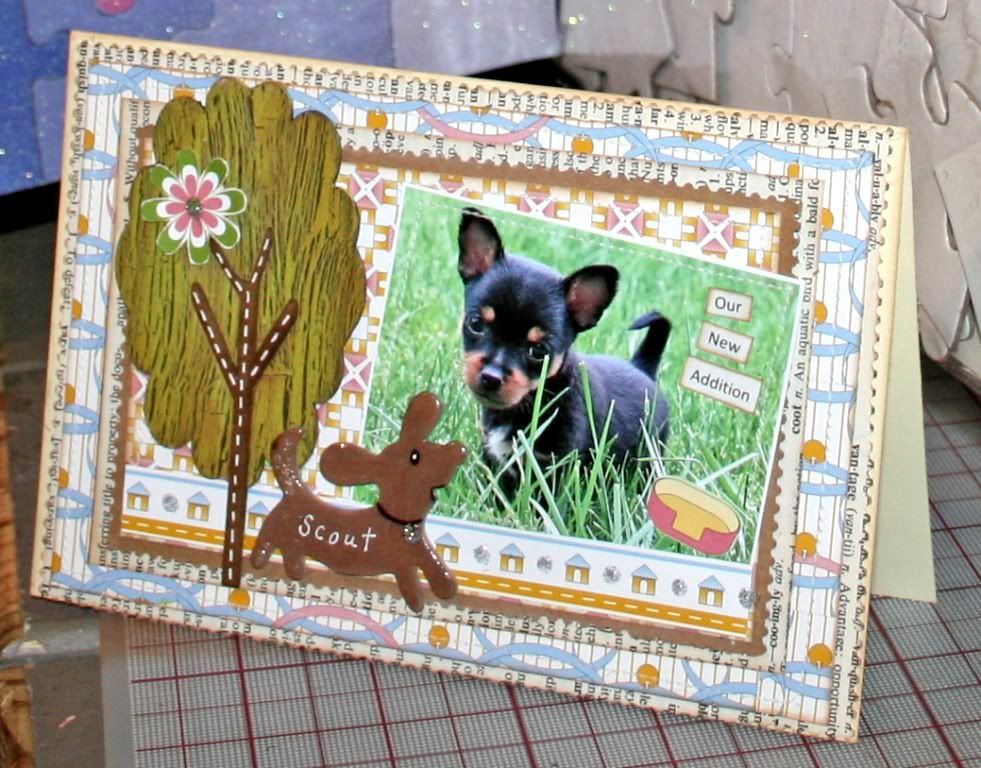 6.  Ink the edges.  I'm a firm believer that everything is better with a little ink :)  I used tan ink around the edges of each layer to clearly define the papers.
7.  Bling it up.  Don't be afraid to add a little sparkle to your projects.  I used silver glitter glue to accent the patterned paper, flower diecut, and dog collar.
8.  Fussy cut it.  Take advantage of those great images on your patterned paper.  I cut the flower and dog bowl from images on the patterned paper and layered them on my photo and chipboard tree.
9.  Use those computer fonts.  I love my sticker letters, but sometimes I need a style or size that only my computer can provide.  I used my Word program to type this tiny title.
10.  Invest in good black and white pens.  They can be your best friends.  Not only are they wonderful for journaling, they are a must for doodling, hand drawn stitches, and correcting mistakes.  My favorite white pen is the Sakura Gelly Roll Medium Pen.  My favorite black pen is the Zig Dual Writer.
Keep your supplies organized with great products from Simply Renee.  I love using my Clip It Up Jumbo Organizer to keep patterned papers, stamps, and kits within reach.  The sturdy metal ring and clips allow me to spin my organizer to see all of the products I have available.
Have a wonderful week!